Ardmore EDDM Postcards
---
What are EDDM Postcards
EDDM stands for Every Door Direct Mail. Every Door Direct Mail is a class of postage offered by the USPS that is much cheaper than most other classes of mail. This is because EDDM mail is easy for the Post Office to deliver.
EDDM Postcard Attributes
Are generally a large size - EDDM sizes start at 6.125" X 11.5" and can go up to 12" X 15"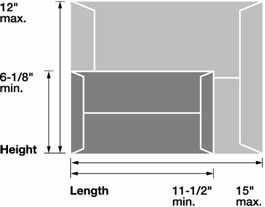 Use a simplified addressing format. This saves the mailer money. There is no cost for a mailing list and no fees to addressing your mail. Instead of personally addressing postcards, your mail is sent according to carrier route.

Offer some of the deepest postage discounts available.
The postage costs of Ardmore EDDM mail are as low as .183 each
(as of Nov 2015). That's .30 cheaper than first class mail and .10 cheaper than standard mail.
---
How do I get started with EDDM mail?
The easiest way to get started with a Ardmore EDDM or Ardmore direct mail campaign is to call 610-828-1623 and talk to one of our skilled EDDM experts. We can advise you on each step of your Every Door Direct Mail project. You can also get prepared on your own with these simple steps.
Design
Have Schank Printing design your mail piece or create your own postcard. If you design your own piece, don't forget room for your simplified address and permit imprint indicia.
It's also best to keep your message short and simple to read. Bullet points work extremely well for postcards. For example:
Bullet Points
Work Well
For Postcard
Messages
Always include a call to action on your postcard designs. Call XXX-XXX-XXXX for details, or Email you@yourwebname.com are popular calls to action.
When designing, it is also best to pick a standard EDDM mail piece size.
Standard EDDM Mail Sizes
6" X 12"
8.5" X 14"
6.5" X 12"
9" X 11"
8" X 10"
9" X 12"
8.5" X 11"
12"X15"
Pick a Mailing Area
Pick your carrier routes. These are the area that you will be mailing your pieces to. You can either do this yourself using the USPS EDDM Tool or ask one of our EDDM experts to do it for you. Using the tool, record all of your carrier routes and the corresponding number of mail pieces required. These will be needed for your final mailing.
Printing
Have Schank Printing produce your Ardmore EDDM postcard. We offer a diverse choice of stock and finishes to meet every need. Our finest work is produced on our 14 PT or 16 PT coated 2 sided cover. We also offer quality budget Every Door Direct Mail postcards on our 100# Gloss Cover with or without gloss aqueous coating.
We are proud of our printing work. Samples are available upon request.
Prepare your mailing for the post office
Fill our your paperwork and pay for your EDDM mailing
All mail must be counted and bundled in 100 piece bundles
Every bundles must be double criss/cross rubber banded
Every bundle must be affixed with a carrier route facing slip
Place mail bundles into a USPS mail tub. All 19003 codes must have their own mail tubs. Mail can not overflow the top of a mail tub.
Mail tubs must be dropped off at the appropriate post office.
Call us at 610-828-1623 with any and all Ardmore EDDM or Ardmore Direct Mail campaign questions.
Abington
, 
Ambler
, 
Ardmore
, 
Bala Cynwyd
, 
Berwyn
, 
Broomall
, 
Bryn Mawr
, 
Dresher
, 
Drexel Hill
,
Elkins Park
,
Flourtown
,
Fort Washington
,
Gladwyne
,
Glenside
,
Haverford
,
Havertown
,
Merion Station
,
Narberth
,
Newtown Square
,
Oreland
,
Philadelphia
,
Upper Darby
,
Villanova
,
Wayne
,
Wyncote
,
Wynnewood
,
Devon
,
Norristown
,
Bridgeport
,
King Of Prussia
,
Audubon
,
Eagleville
,
Fairview Village
,
Eagleville
,
Blue Bell
,
Cedars
, 
Collegeville
,
Conshohocken
,
Gwynedd
,
Gwynedd Valley
,
Lafayette Hill
,
Lansdale
,
North Wales
,
Oaks
,
Plymouth Meeting
,
Spring House
,
Valley Forge
,
West Point
,
Worcester